---
Steps to achieving a successful Seamless Flake Floor Epoxy Coating
---
  

Step 1  
Prepare the concrete thoroughly by diamond grinding with a course grit diamond
To achieve a successful floor coating system make sure your surface is free of dust, oil/grease, any loose particles or paint and moisture. Click on the options below for further information
Epoxy Flooring Tools Information

Epoxy Floor Coating Preparation

Floor Grinders: Rubicon 480mm Grinder | Husqvarna 450mm Grinder | Scintex 250mm Grinder

Vacuums & Dust Extractors: Floorex | Husqvarna S36 (3 motor phase) | Husvarna S13 (single phase)

Diamond Grinding Plugs: Rectangle | Arrow | PCD (to remove previously coated or adhesives on the floor)
Redi-Lock Diamond Plugs: Sydney Industrial Coatings (9 pack)
Diamond Grinding Cup Wheels: 125mm to 250mm
  Step 2  
Repair cracks and imperfections using two-pack epoxy fillers
Fill in all your cracks using a 2-pack epoxy filler and wait until the patching mortar is fully cured before grinding or coating the floor, this process usually takes a minimum of 6 – 8 hours.
For larger cracks and spalls: SIC Epoxy Coving & Repair Kit | Sika Sikadur 31 CFN
For smaller patching and cracks: Sika Sikadur 33 | Sikadur 513 (magic powder mixed into epoxy to thicken up)
  Step 3  
Apply epoxy primer to the floor and allow the coating to cure
General curing time (at 20°C) is a minimum of 8 hours. This can vary further if solvent has been added to the epoxy.
Sika Australia: Sikafloor 160 (up to 40sqm) | Sikafloor 94 (recommended) | Sikafloor 158W (moisture barrier)

UltraKote: High Solids Epoxy
Elite Crete Systems: E100-VB5 Epoxy Vapor Barrier 

EpiMax: Epimax 237WB (water based)
  Step 4  
Return within 24 hours of applying the primer to remove rubbish and imperfections (by grinding down high sections and patching any low sections)  
This is an important step for if the coating is left uneven, this will show though your final coat. If this step if not completed within 30 – 36 hours (depending on temperature) of applying the previous coat, the floor will need to be scratched using an 80 grit sand paper.
  Step 5  
Apply an even coat of the coloured epoxy by rolling the product from wall to wall. Immediately after the floor has been completed, start the next step to broadcast the flakes  
We recommend always having a minimum of two people when completing an epoxy floor, this is to ensure the product does not begin to cure before you have finished broadcasting the flake. If there is no one to help, we would suggest applying in sections based on works time and pot life of product being used.
High Solids Epoxies: UltraKote High Solids Epoxy
100% Solids Epoxies: Sikafloor 264 | Elite Crete Systems PT4 (pretinted)
UV Stable Polyurethanes: Sikafloor 359 AU | EpiMax 920
UV Stable Polyaspartic: EpiMax 842
  Step 6  
Begin broadcasting the flakes immediately after the base coat has been applied then allow to cure 
We recommend broadcasting the flakes to the point of rejection, this means that you will keep apply the flake until the epoxy cannot have any more flake added to it. This is beneficial as a full epoxy flake system will hide imperfections for longer with its design. Wearing spike shoes to walk over the epoxy is essential with flake epoxy flooring, however you must apply safety practices and be cautious of injury.
  Step 7  
Return within 24 hours, vacuum the excess loose flakes and apply your top coat and allow to cure
For easier clean up you can use a blower to move the bulk of the flake to a corner and scoop up. Using thinners in the final (or finish) coat is not recommended.
Epoxies: Sika Sikafloor 169 | Elite Crete Systems VR1
Polyurethanes: Sikafloor 359 AU | UltraKote UVSeal | UltraKote SuperClear WB
Polyaspartic: EpiMax 920
  Step 8  
Return within 24 hours and apply the final clear coat
If you are using a high body, self-levelling 100% solids epoxy, one squeegee coat will be enough. Using waterbased products, polyurathanes or polyaspartic products will require an additional coat. . Using thinners in the final (or finish) coat is not recommended. It is always recommended to back roll the product against the natural light to assist with achieving a more uniform finish.
Epoxy Glitter can be mixed into the final coat to create a stunning, eye-catching effect on the floor.
Antislip media can be added to the topcoat to achieve a higher slip rating.
Your floor will be trafficable after 24-48 hours and heavy items such as cars, boats or trailers shouldn't be parked on the floor for 7 days after application of the final coat
---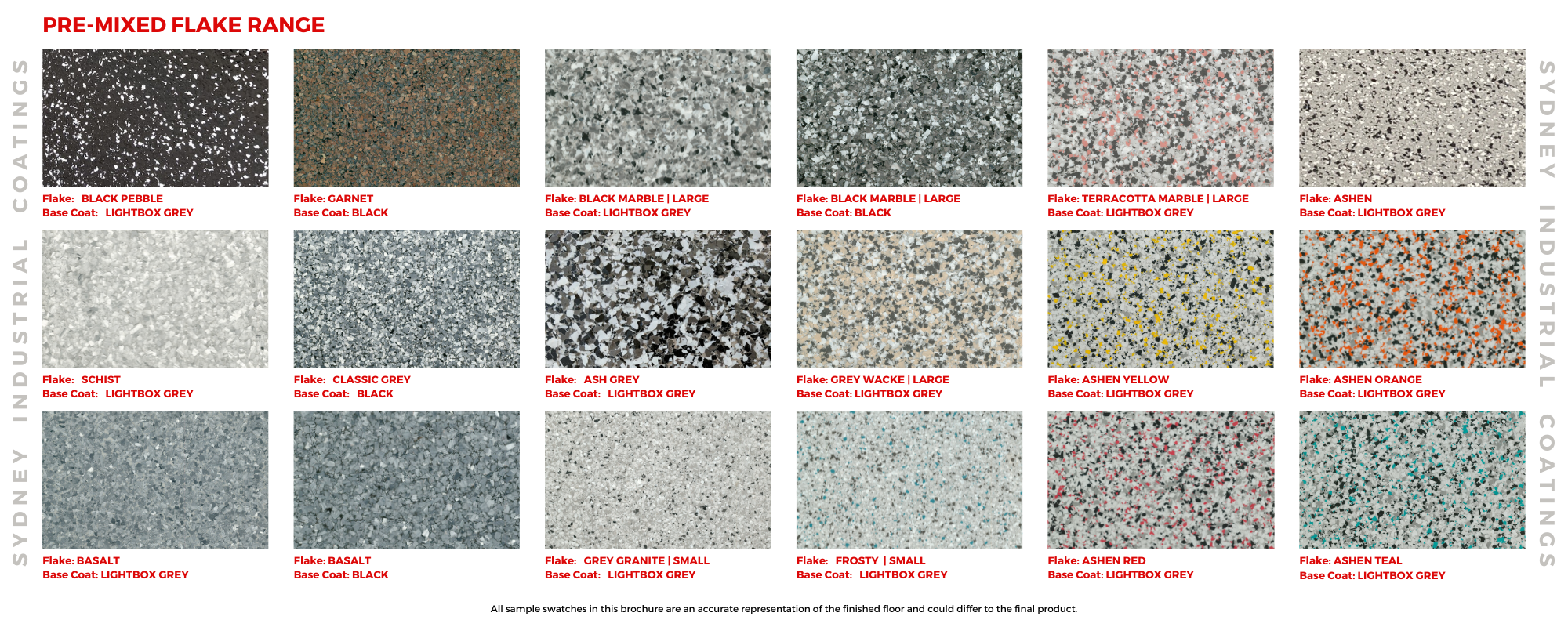 ---
Click here to view the PDF colour chart for the Base Coat of your Epoxy Flake Floor
---
---
Click here to view our Flake Epoxy Flooring PDF Brochure to see the samples and flakes
---